Riptide GP®: Renegade drops players into a futuristic world of illicit hydro jet racing, where armored riders kick out death-defying stunts over massive waterfalls, outrun cops, and boost at breakneck speeds across surging waves. With a deep career mode and both split screen and online multiplayer, Riptide GP: Renegade is the first game in the popular racing series designed especially for modern consoles.
Available on
XBOX ONE, WIN10, PlayStation 4, Steam PC,
Google play, IOS, Amazon, NINTENDO SWITCH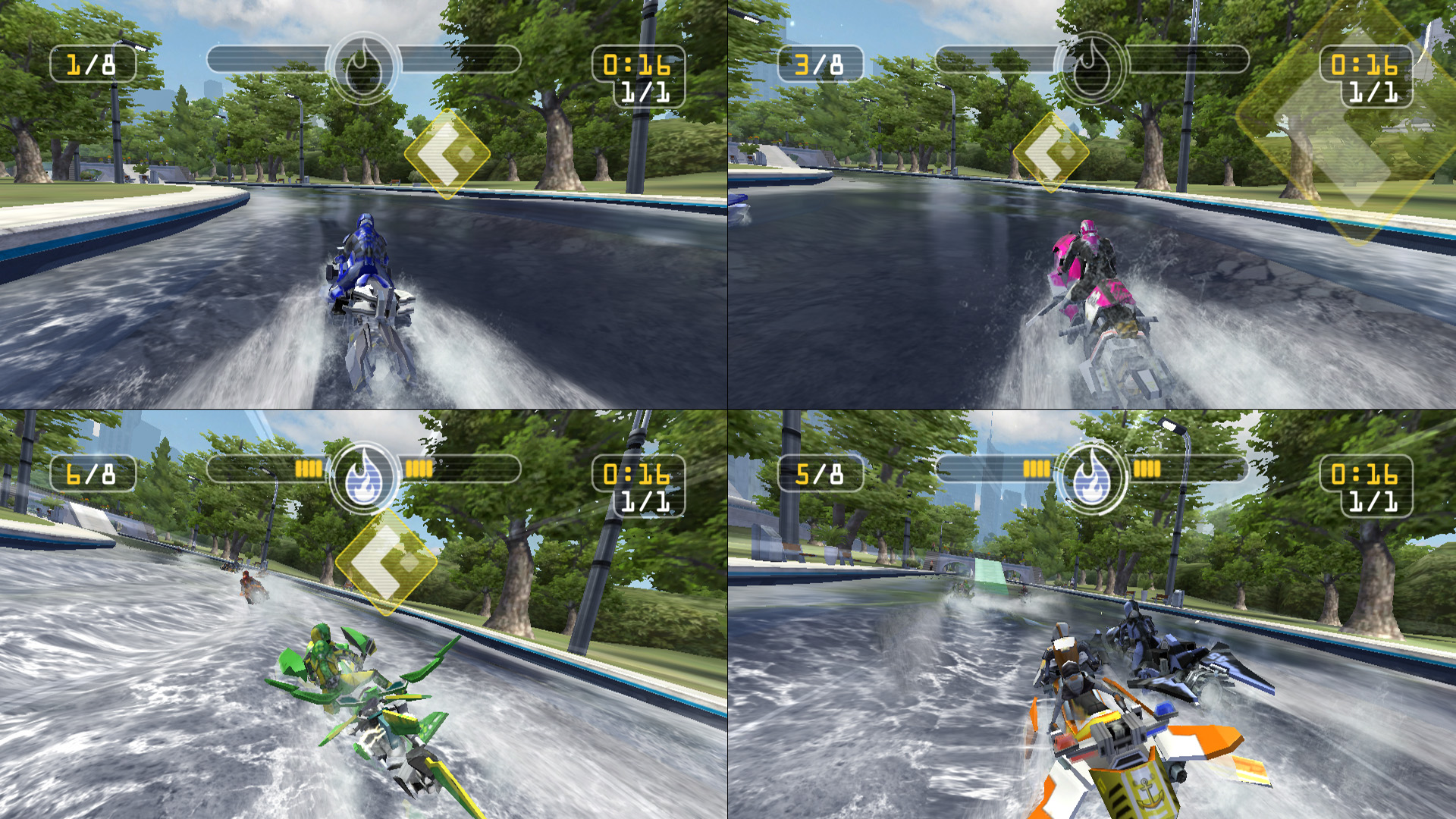 Game Features
Next Gen Water Racing
Vector Unit's first game since Hydro Thunder Hurricane to be designed from the ground up for modern consoles, RGP:R sets the bar for dynamic water racing, with breathtaking dynamic water physics, splash-tastic spray effects, and more!
Thrill-Ride Environments
Dodge police boats and drones while you blast through vast interactive race environments packed with interactive elements, secret shortcuts, and animated obstacles.
Deep Career Mode
Battle your way through a variety of race types and boss fights to reach the top of the underground hydro jet racing circuit. Earn XP and cash to upgrade and customize your hydro jet, unlock new stunts, and increase your rider's performance.
Online and Split Screen Multiplayer
Compete online against the best players around the world – or against your pals in split screen local multiplayer matches (with a mix of human and AI racers). Play with up to 8 players online, or couch co-op with up to 6 players depending on your platform. On mobile, go head-to-head with players on different mobile platforms!
Futuristic Customizable Vehicles
Collect and upgrade a garage full of blistering fast hydro jets that transform while you ride them. Win money to upgrade and customize the stats, colors, decals and numbers.
1080p / 60fps
Console versions feature silky smooth, blisteringly fast racing action – even in split screen! (Resolution and frame rate for PC and mobile platforms will vary based on hardware configuration).
LOCALIZATIONS
Available in English, French, Italian, German, Spanish, Russian, and Brazilian Portuguese.
GAMEPLAY VIDEOS (Console/PC)